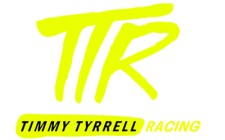 KENLY, N.C., March 6, 2019 (Newswire.com) - ​​​Mini Tyrrell, 14, of Manassas, Virginia will begin his first full season of competition with the Response Energy CARS Tour this Friday and Saturday at Southern National Motorsports Park in Kenly, North Carolina. The Solid Rock Carriers 300 will feature some of the nation's top competitors in NASCAR-style late model stock car racing and super late model racing, with practice on Friday kicking the weekend off, followed by qualifying and the main events on Saturday.
Tyrrell will compete in the late model stock portion of the event. The well-spoken teenager calls Manassas, Virginia home and was the youngest driver to compete in a full-size late model when he made his debut at Shenandoah Speedway at age nine. He has accumulated 17 wins in the stock car ranks since then along with a pair of track championships. He qualified second and finished 11th in his CARS Tour debut last season and he is preparing to run for a championship in the series in 2019.
"I am very excited to be running at Southern National in the CARS Tour season opener," Tyrrell said. "I am really happy to be a part of their Touring 12 program and the goal is to start the season off on a positive note. Southern National is a fast track. It's one of my favorite tracks to run. I was fortunate to win there in 2017 in a limited late model and I really enjoy racing there. Going back as part of the CARS Tour will be intense. There are so many top drivers that run the series. They are the best of the best. It will be fun to be back racing again after the long offseason, and to see all the fans who come out to watch."
Tyrrell has raised over $400,000 throughout his young career for pediatric cancer research through his foundation, Mini's Mission. A part of the Race Face Brand Development driver management and marketing program, he will join the rest of the Race Face driver lineup in carrying the colors of the Friends of Jaclyn Foundation on the hood of his car this season.
Friends of Jaclyn Foundation's mission is to improve the quality of life for children battling pediatric brain tumors and other childhood cancers, and Tyrrell is committed to raising awareness through their unique sponsorship program. Each of the racers will be adopting a child from the Friends of Jaclyn Foundation and making them an honorary team member, bringing them to a race where possible and providing ongoing friendship and support for the child and their family for as long as there is a need.
"Everyone knows someone who has been touched by cancer," Tyrrell said. "And there are so many families who have children who battle with cancer from such a young age. Friends of Jaclyn is such an amazing organization and their mission lines up with what's been on my heart with Mini's Mission since a young friend of mine named Ella developed a brain tumor when I was about six years old. I'm humbled to be able to make a difference any way that I can with my racing because I'm so lucky just to have what I have and to be able to do what I love. I hope everyone will go to my website and learn more about the impact they are having with their foundation. It's awesome."
The Solid Rock Carriers 300 for the Response Energy CARS Tour takes place this Saturday, March 9 at Southern National Motorsports Park in Kenly, North Carolina. The main event is scheduled for a 3 p.m. Eastern time start. Those who cannot make it to the track can watch the event via pay-per-view on www.carstour.TV.
Follow Mini:
Website: https://minityrrell.com
Facebook: https://www.facebook.com/MiniTyrrell
Twitter: https://twitter.com/MiniTyrrell
Instagram: https://www.instagram.com/minityrrell
Media/Sponsorship Contact:
Rod Wortham – Race Face Brand Development
Email: Rod@racefacebd.com • Ph: (727) 999-2628
Source: Race Face Brand Development on behalf of Timmy Tyrrell Racing
Share: