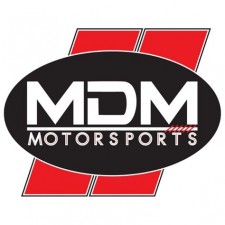 Toledo OH, May 23, 2018 (Newswire.com) - MDM Motorsports finished first and second at the Menards 200 presented by Federated Car Care last weekend at Toledo Speedway in Toledo, Ohio. Zane Smith scored his third victory of the season after passing teammate Chase Purdy with just nine laps to go while the pair were battling slower traffic.
Smith, coming off his second win of the season in his La Paz Margarita Mix, Icon Vehicle Dynamics, Speed Vegas Motorsports Toyota No. 41, was pumped coming into the Toledo event because his crew-chief, Mardy Lindley, had won the race last year with driver Harrison Burton.
Smith's enthusiasm was justified by the victory, the second in a row for him and the second straight Toledo win for Lindley. The California-born racer started second and led a total of 76 laps in the race.
"I had this race circled on the schedule all year, Smith smiled in victory lane. "I love this track. Man, that was awesome! I didn't think we had enough at the beginning of the race but Mardy made the right calls to put us in contention. You just never really know how these things are going to play out. I am so excited about this win and so thankful to everyone who helps make it happen. Bring on Charlotte Thursday. I want that one bad!"
Purdy started fourth in his Bama Buggies, Polaris Toyota No. 8 and his team had one of their finest performances of the season. Racing in the top five all day long, the Meridian, MS teenager took the lead on a late-race restart just 25 laps from the end and maintained it until a lapped car held him up and teammate Smith went by for the win.
Purdy had mixed emotions about the second-place finish. "I want to be really happy about this and I am but coming that close to getting the win and then not getting it is a kick in the pants. I can't thank this team enough. This one's for Cully. I wish he was here, but I know he was watching. We're going to keep digging until we get a win for him. Charlotte would be a perfect place to do that."
Burton won last year's race at Toledo, and qualified sixth in the Sports Force Parks, Dex Toyota No. 12. He was racing inside the top six until contact with teammate Sheldon Creed forced them to pit. The damage was mainly cosmetic, but the car didn't handle properly for the remainder of the race. He went down two laps before a caution flag gave them time to work on it. He came back for a ninth-place finish.
The Huntersville, N.C. racer took full responsibility for the contact with his teammate. "That one is on me. We had another fast car capable of competing for a win, but I made a mistake and it cost both me and Sheldon. I hate it for my guys and for his, but I'm thankful we were able to talk it out and can move on from it. Brandon Jones will be in the car at Charlotte and I'm sure he'll do a fantastic job with it."
Creed qualified sixth fastest in his United Rentals, A.M Ortega, RTL Toyota No. 28 led by crew chief Jeff Stankiewicz, and raced inside the top five all afternoon long. After he and Burton tangled, he charged back into the top five but with 30 laps left he blew a right front tire and hit a man hole on pit road which knocked the radiator out of the car. It was a disappointing ending for the series points leader.
"I'm really bummed how we ended up today after looking like we were going to have another top four finish," the driver said. "But, we'll bounce back next week at Charlotte. We're ready for battle and I'm looking forward to our first intermediate track of the year. Our team is working so hard to get a win. I really want to make that happen for them."
Additional information about MDM Motorsports is available at www.MDMmotorsports.com, find us on Facebook and follow us on Twitter @MDMmotorsports.
Media Contact:
Dylan "Mamba" Smith
(704) 928 6602
Source: Race Face Brand Development on behalf of MDM Motorsports
Share: