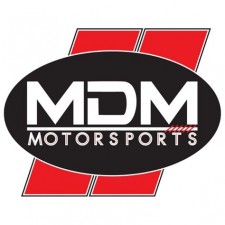 TALLADEGA, Ala., May 1, 2018 (Newswire.com) - One of the most memorable wins in MDM Motorsports history took place on Friday night at Talladega Superspeedway when driver Zane Smith in his La Paz Margarita Mix, Icon Vehicle Dynamics, Speed Vegas Motorsports Toyota No. 41 edged out Joe Graf, Jr. in the closest finish in series history to win the General Tire 200.
The win was the second in three races for the 18-year-old Smith. He won the prized Guitar trophy at Nashville in the Music City 200 and then finished second at Salem before his career moment on Friday night at Talladega.
Smith started eighth and took just eight laps to get to the lead. When the teams made their pit stop he restarted 13th but decided to drop back to the tail end of the lead draft for the next 30 laps before charging back to the front again.
He took the lead from teammate Sheldon Creed on lap 80 and led to the finish. The smile on his face said it all after the race was over. "That was wild," he said. "There was a sizable portion of that race on that long run where I didn't think we'd be able to make it back. This win goes to all my guys for building a new car and Derek Kneeland (Zane's Spotter) for guiding me through it all today. My family is here. My girlfriend is here. It doesn't get any better than this!"
Veteran crew chief Mardy Lindley was thrilled with the performances of everyone on the team. "This car was better than the one we lost at Daytona," Lindley stated. "The guys did a fantastic job of building it better. This win is really all about Zane and Derek. Derek is the best spotter in the game right now and without him this wouldn't have been possible."
Creed started third and finished fourth with his United Rentals, A.M Ortega, RTL Toyota team led by crew chief Jeff Stankiewicz. He continues to race consistently in the top three to five and he remains the series points leader. He was leading coming through the tri-oval to the checkered when the first overtime caution came out, so he had mixed feelings about the outcome but managed a grin when he talked about it.
"That stinks," Creed said. "To have two superspeedway races in a row where we were leading coming to the checkers only to have it taken away like that just leaves you with a bad taste. My guys deserved that win. I apologize to everyone on the 18 team. I misjudged that gap and turned them. That's on me. Fourth is good for our championship hopes and I'm happy for our teammate Zane but I really wanted to win this one for the 28 team."
Stankiewicz was also shaking his head after the race, but he knew that his driver did all he could do to win. "I'm not sure what we have to do to finish one of these off," said Stankiewicz. "To lose like that is very disheartening. We have one of the best drivers in the series and one of the best teams. We had a strong points day and the championship is our main prize."
Teammate Chase Purdy started second with his Bama Buggies, Polaris Toyota No. 8 and had the lead briefly. He raced inside the top ten before a fueling problem on his second pit stop forced him to come back down pit road to make sure they got a full tank of fuel in the car.
Purdy had worked his way back inside the top ten when he got turned into the turn three wall, resulting in a 25th place finish. He was taken to the local hospital for examination and then released with a bulged disc in his back. It is expected he will be back in the car for the series' next race at Toledo.
"Man, I thought the hit at Daytona was bad," Purdy said with a smile. "We had a really fast car today. I wasn't sure what we had after practice, but man did it come alive in the race. It was cool to run up front at Talladega. Thank you to all the guys on our team, everyone that came out to watch us, and to all who've reached out to me wanting to know how I was doing. I will be back for Toledo."
Purdy's crew chief, Mark McFarland gave credit to his driver. "Chase did well. We fought speed all day but when we needed it most it was there. That's a credit to this team. Having someone like TJ Majors in the (spotter's) stand makes all the difference in the world at plate races. It sucks how it ended, though."
Additional information about MDM Motorsports is available at www.MDMmotorsports.com, find us on Facebook and follow us on Twitter @MDMmotorsports.
Media Contact:
Dylan "Mamba" Smith
(704) 928 6602
Source: Race Face Brand Development on behalf of MDM Motorsports
Share: