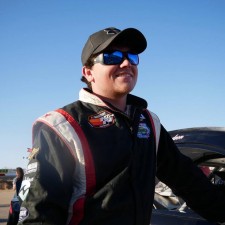 NACHES, Wash., May 3, 2019 (Newswire.com) - ​​​Jefferson Pitts Racing (JPR) has announced that it will field an entry for Bishopville, Maryland, racer Devin Dodson in all six races for the newly created California Challenge Cup Series at Madera Speedway in Madera, California, this season, beginning Saturday, May 4.
Dodson, who will turn 20 years old this Friday, ran a limited schedule of NASCAR K&N Pro Series West events for JPR last season, starting four events and finishing three of them inside the top 10, including a career-best sixth-place finish at Arizona's Tucson Speedway in his first start in the series. He also made one start in the NASCAR K&N Pro Series East for the team, finishing 12th at Dover in his first-ever race on a one-mile track.
The California Challenge Cup is a new series created by Madera Speedway in order to provide a more cost-effective opportunity for racers who want to compete on TV in the same heavier, truck-arm-style NASCAR-type stock cars used in NASCAR's national series. The series rules currently allow any present or past "grand national"-type stock car and engine to compete but utilize a Rev limiter and a Hoosier F80 tire to keep the playing field level and keep costs in line. The speedway will hold six races for the series this season, televising them as part of their MAVtv package. The events are scheduled for May 4, July 13, Aug. 10, Sept. 14 and Oct. 5.
Team co-owner Jerry Pitts is looking forward to helping the former dirt track and NASCAR-style late model series racer continue to develop his craft in the truck-arm-type car as the team runs for a championship in the new series. He says the California Challenge Cup Series will be an important option for racers and organizations like JPR for multiple reasons in years to come.
"For a driver who has never driven the grand national-style stock car before, we can transition them into that type of car from a late model using this new series and then elevate them to K&N Pro Series when their abilities and resources allow," Pitts explained. "They are still able to race on TV and to run for a championship and they can learn and progress at their own pace. In Devin's situation, he has already raced in the K&N Series a few times with us and has shown the ability to handle the car so, for him, this series provides a more cost-effective way for us to continue to work with him in the same type of car, and he will come into the season with his experience from last year, which should help him to be comfortable and competitive right away. Being able to start them in a late model, move them to this new series and then to the K&N Series, all in the same organization with the same team around them saves money in the long run because it eliminates wasted races and test time learning to communicate with new people at every step. We're excited to welcome Devin back and to do all we can starting this weekend to help him enter the record books as the first-ever champion of the series."
The first-ever California Challenge Cup Series event takes place this Saturday, May 4, at Madera Speedway in Madera, California. The 100-lap event will be televised on MAVtv. For more information about the event, visit the track's website at www.racemadera.com.
For more information about available driver development programs, visit Jefferson Pitts Racing's website at www.JeffersonPittsRacing.com or email them at info@jeffersonpittsracing.com.
ABOUT JEFFERSON PITTS RACING
Jefferson Pitts Racing (JPR) was formed in early 2015 after owners Jeff Jefferson and Jerry Pitts purchased assets from Gene Price Motorsports, where they combined for four series championships as crew chiefs. JPR has operated two full-time teams in the NASCAR K&N Pro Series West since their formation and has had tremendous success with drivers, including Noah Gragson and Will Rodgers, who have built upon what they've learned in their climb up the motorsports ladder into national series competition.
Source: Race Face Brand Development on behalf of Jefferson Pitts Racing
Share: